Nima Naghshineh MD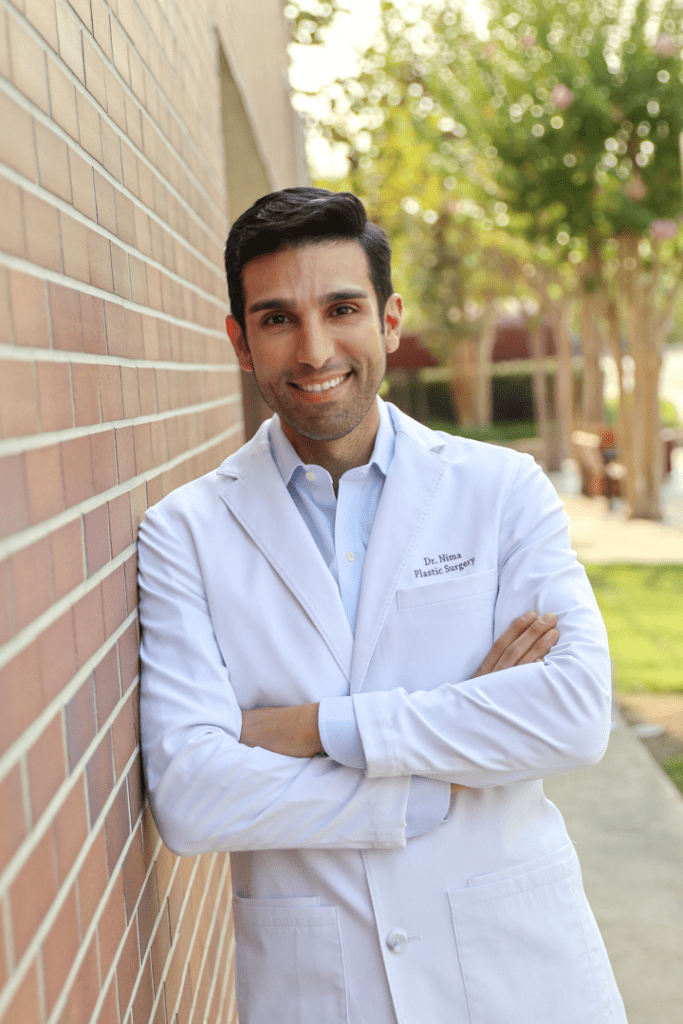 Dr. Nima's approach to aesthetic and reconstructive surgery is one of combining artistry and advanced techniques to provide a natural, long-lasting result. His individualized patient-oriented approach to surgery allows for patients to achieve the results they seek while maintaining a harmonious balance with the body or face. Dr. Nima has a special interest in facial aesthetics, rhinoplasty, breast procedures and reconstruction, body-contouring, and surgical treatments for migraine sufferers. He has published many works in the field, including book chapters, anatomic surgical drawings, and national presentations.
Dr. Nima is a graduate of the UPMC Plastic and Reconstructive Surgery training program. Along with the UT Southwestern and Harvard, UPMC was named one of the top 3 programs in the country by Doximity and US News and World Report. Dr. Nima has a unique background with studies in Biomedical Engineering and Psychology at Johns Hopkins University. He obtained his medical degree from the University of Pittsburgh while simultaneously receiving a Masters of Science in Clinical Research.
He subsequently completed his plastic surgery training at UPMC. His other interests include surgical device innovation, regenerative medicine and entrepreneurship in plastic surgery. He has completed a fellowship at the Center for Innovation in Restorative Medicine (CIRM) where he focused on adipose stem cell therapies and FDA regulatory issues in plastic surgery.
---
SELECTED WORK
Dr. Nima has multiple publications, national presentations, and book chapters in the areas of Aesthetic surgery, Bariatric surgery, Body Contouring surgery, Rhinoplasty, Facial Reconstruction, and Hand Surgery.
Current Status of Grafts and Implants in Rhinoplasty, Part II: Homologous Grafts and Allogenic Implants. Sajjadian A., Naghshineh N, Rubinstein R, Plast Reconstr Surg. 2010 Mar;125(3):99e-109e

Current Status of Grafts and Implants in Rhinoplasty, Part I: Autologous Grafts. Sajjadian A, Rubinstein R, Naghshineh N. Plast Reconstr Surg. 2010 Feb;125(2):40e-49e. Review.

Nutritional Assessment of Post-Bariatric Surgery Body-Contouring Candidates: A Prospective Analysis. Naghshineh N, McTigue K, Courcoulas A, Fernstrom M, Rubin JP. Plast Reconstr Surg. 2010 Aug;126(2):602-10

Body mass and surgical complications in the postbariatric reconstructive patient: analysis of 511 cases. Coon D, Gusenoff JA, Kannan N, El Khoudary SR, Naghshineh N, Rubin JP. Ann Surg. 2009 Mar;249(3):397-401.

Naghshineh N, Rubin JP. Preoperative Evaluation of the Body Contouring Patient: The Cornerstone of Patient Safety. Clinics in Plastic Surgery. October 2014.

Sajjadian A, Naghshineh N, Magge KT, Kassir R, Nachlas NE, Rofagha R. Nasal Reconstruction. In: Faust RA, Talavera F, Dorion D, Slack CL, Meyers AD, eds. Otolaryngology and Facial Plastic Surgery: emedicine/WebMD; 2007. 2nd edition 2010.

Sajjadian A, Naghshineh N, Rofagha R, Tobin GR, Stadelmann W. Lip Reconstruction. In: Ketch L, Talavera F, Newsome RE, Slenkovich N, Aly A, eds. Plastic Surgery: emedicine/WebMD; 2007. 2nd edition 2010.

Silicone Arthroplasty for Nonrheumatic Proximal Interphalangeal Joint Arthritis: Long Term Clinical Follow Up. Nima Naghshineh, MD, MSc, Kanu Goyal, MD2, Mithun K. Neral, MD, Alexey Markelov, MD, Joel Ferreira, MD, Glenn A. Buterbaugh, MD, and Joseph E. Imbriglia, MD. American Association of Hand Surgeons, February 2015 On Field Management of Facial Trauma in Sports. Naghshineh N. Invited Speaker, University of Pittsburgh Department of Orthopedic Surgery. August 2014.
---
Educational
University of Pittsburgh School of Medicine
Dean's Merit Scholar (Full Scholarship)
Plastic Surgery Ross H Musgrave Scholar
University of Pittsburgh Graduate School of Medicine
Master's in Clinical Science (M.Sc.) in Clinical Trials Research
Johns Hopkins University
Biomedical Engineering (BS), Psychology (BA), Mathematics (minor)
---
Memberships
Board Certified, American Board of Plastic Surgery
Fellow, American College of Surgeons
Member, American Society of Plastic Surgeons
Member, California Society of Plastic Surgeons