Breast Implant Revision
in Pasadena, CA
If your breast augmentation did not turn out how you planned, your breasts are uneven, have sagged over the years since your surgery, or you are experiencing deflation or rippling commonly associated with implants, revision breast surgery may be right for you. Patients should be in generally good health, be non-smokers, and have realistic expectations for their revision breast surgery.
Depending on your concerns, your revision breast surgery may be identical to the original breast surgery you had or Dr. Nima Naghshineh may recommend implant free breast augmentation or a breast lift.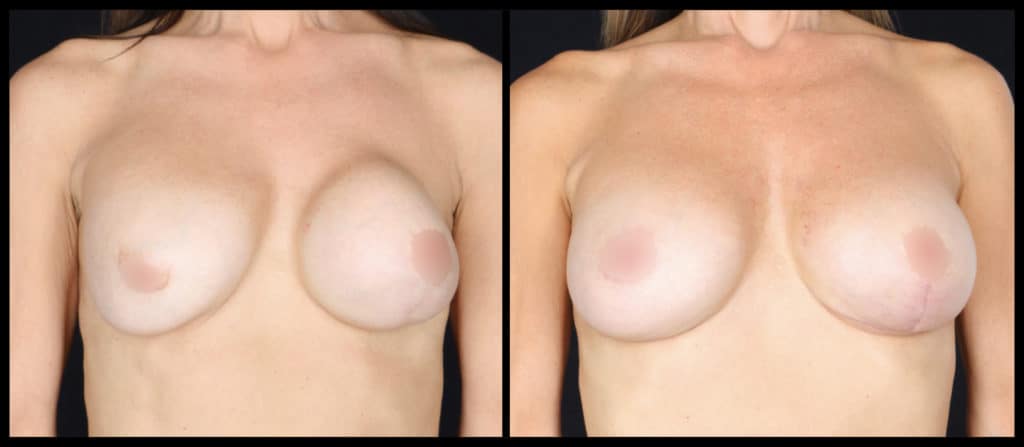 How Revision Breast Surgery Works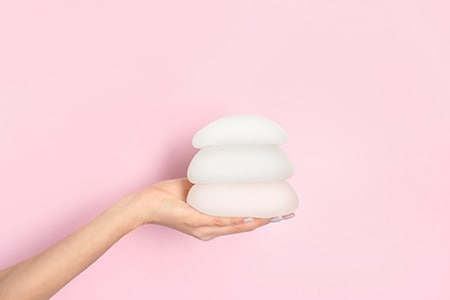 Secondary breast augmentation, or revision breast surgery, is not routine and often involves complexities or nuances that differ from primary procedures. Some women may require a revision for medical reasons, such as capsular contracture, implant rupture, or malposition; others may want a corrective procedure because they're unhappy with their results or to address changes caused by age, pregnancy, or weight loss. The procedure details depend on your unique circumstances and may involve a breast lift, breast reduction, or reshaping the implant pocket to improve results.
Our board-certified plastic surgeon performs revision breast surgery with general anesthesia. Dr. Nima typically uses the original incision site for revision procedures, but if you also require a breast lift, additional incisions may be necessary to elevate the breast tissue and nipples. The breast implant is then removed. The next step may involve inserting new breast implants of a different size, shape, or reshaping the breasts without implants through a lift or reduction. Women who want their implants removed without replacement may opt to have fat grafting to restore volume loss. The incisions are closed with sutures, clips, skin adhesives, and/or tapes.
On occasion, revision breast surgery requires synthetic mesh, grafts, or acellular dermal matrix (ADM). ADM is a type of surgical mesh formed from animal or human skin that is stripped of all live components (DNA) and adds support structure to the breast. ADM can help reduce the recurrence of capsular contracture, a type of breast augmentation complication that causes hardening of the capsule around the implant.
Cosmetic Reasons Women Have Breast Revision Surgery
Breast implants are not lifetime devices. Though they don't expire, implants are commonly replaced every 10 to 20 years. Some women may have revision surgery to address thinning skin and breast drooping (ptosis) caused by age, pregnancy, and breastfeeding. Breast ptosis is common among women, and a simultaneous breast lift with implant replacement can restore a youthful bust. Other women may be unhappy with their original results and want a bigger or smaller size or different type of implant.
Medical Reasons Women Have Breast Revision Surgery
A 2021 study published in Seminars in Plastic Surgery found that the revision rate for primary breast augmentation could be as high as 36%, and the medical reasons often include capsular contracture and implant malposition. Researchers found that other problems could be attributed to improper implant handling, failure to maintain a sterile surgical area, and improperly sized implants.
Capsular Contracture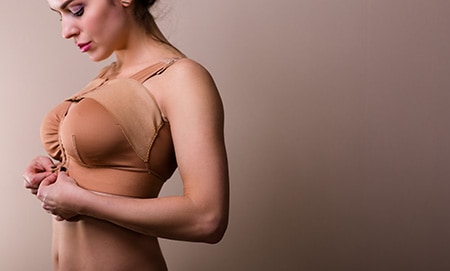 A six-year follow-up study found that capsular contracture may happen in 10% to 15% of breast augmentation patients. This occurs when a hardened capsule forms around an implant instead of the usual soft, thin scar tissue. The thicker tissue may distort the breast shape and squeeze the implant, causing discomfort. Capsular contracture is treated by removing the scar tissue and replacing the implant. En-bloc capsulectomy removes the implant and scar capsule in one piece and may be performed in cases of severe capsular contracture, breast implant illness, or BIA ALCL (breast implant lymphoma).
Implant Malposition
Implant malposition is a term used to describe scenarios where the implants do not sit properly after surgery. This could be from the implant pocket being too large or too small, leading to a bottoming out of the implant, or a "high-riding" appearance respectively. Implants can also look spread too far apart or sit too close together creating very narrow cleavage. Revision breast surgery corrects the position with new implants that may be a different size, shape, or texture.
Recovery After Revision Breast Surgery
You will need to take one to two weeks off work after revision breast surgery and avoid strenuous activities and heavy lifting for up to six weeks. You can expect visible bruising and swelling that typically resolves after three to six weeks.
Revision breast augmentation is a highly nuanced and individualized procedure and should be performed by experienced, Board-Certified physicians. Dr. Nima will provide detailed post-operative instructions so you understand how to care for the surgical site, which medications to take, and when to reach out about concerns and symptoms.
The Nima Difference
Combining Artistry & Advanced Technique to achieve optimal, long-lasting results.
The Process
+ Submit an inquiry
Know exactly what you want? Or not sure? No matter!
Reach out to us by submitting an inquiry HERE.
+ Schedule a consultation
Our dedicated patient liaison will reach out to you and help you arrange a consultation with Dr. Nima.
+ In-person or virtual consultation
At this visit you and Dr. Nima will explore your areas of concern and develop a personalized treatment plan.
Many nonsurgical and in-office procedures can also be done at this visit if it is arranged ahead time with your patient care coordinator.
+ Meet your Patient Care Coordinator
You will be assigned your very own patient care coordinator who will help you navigate through your visits and treatments.
+ Arrange for local accommodations and aftercare
If you are from out of town, we can help you arrange local accommodations near our Beverly Hills or Pasadena locations.
We can also help with post procedure care through partnership with high-end nursing provided at one of several luxury hotels OR provide you personalized nursing care at nearly any location in the LA area.
+ Complete a pre-op visit
If you are having a treatment or procedure with us you may need to have one more visit before your planned procedure.
This pre-op visit gives you and Dr Nima more time to discuss details of your procedure and answer any questions you may have. This also the visit when you will receive your post procedure prescriptions, garments, and care package.
+ Surgery day
The big day is here! So exciting!
You will arrive at the state-of-the-art accredited outpatient surgery center 1hr ahead of your scheduled procedure. You will meet your entire care team in advance (from the anesthesia team to your recovery nurse)!
Rest assured you are cared for by the best in the business.
+ Aftercare/Check-In Call/Follow-up visits
If you have planned to use of the luxury aftercare facilities, transportation will be arranged to take you from the outpatient surgery center to your hotel or facility. If you have arranged for a nurse visit your first visit will typically happen the evening of your procedure or the morning after.
‍
Check-In Call:
Within 24hrs after your procedure you will receive a call from your personal patient care coordinator making sure everything is in order.
‍
Follow up visits:
Your first post-procedure follow-up appointment with Dr Nima will be within 1 week after your surgery. If arranged in advance, Dr Nima may visit you in your care facility.
+ Recovery
Recovery from your procedures can range from 1 day to 6 weeks depending on what you had done.
Dr Nima and his team will see you regularly during this period and make sure your recovery goes as smoothly and comfortably as possible!
‍
If you have traveled from outside of LA, Dr Nima will discuss with you how soon you can travel back.
+ Enjoy the new you
Show off the new you!
It's OK!
You deserve it!
To learn more about what you can expect from your procedure, or to schedule your consultation with Dr. Nima Naghshineh, please fill out the form on this page or call +1 626 696 8181.
We're located in Pasadena, serving Beverly Hills, Santa Monica, Hollywood, Brentwood, Westwood, Burbank, Glendale, and Arcadia.