Botox and Neurotoxin
in Pasadena, CA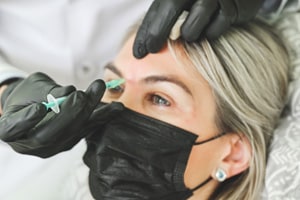 Neurotoxins like Botox® and Dysport® temporarily relax facial muscles to soften the look of dynamic facial wrinkles, giving you a smooth canvas and a refreshed look.
Made from naturally occurring Botulinum Toxin, Botox® is an injectable solution that temporarily reduces muscle movement, softening dynamic lines and wrinkles in the face. Botox is most used on the forehead, between the brows, and around the eyes to diminish the appearance of Crow's Feet. Botox can also be used to reduce the appearance of a heavy jaw, relax a downturned mouth, and smooth out lines on the upper lip. On average, Botox Cosmetic lasts between 3-4 months and can be completed in a matter of minutes in the office.

The Nima Difference
Combining Artistry & Advanced Technique to achieve optimal, long-lasting results.
To learn more about what you can expect from your procedure, or to schedule your consultation with Dr. Nima Naghshineh, please fill out the form on this page or call +1 626 696 8181.
We're located in Pasadena, serving Beverly Hills, Santa Monica, Hollywood, Brentwood, Westwood, Burbank, Glendale, and Arcadia.