Mommy Makeover
IN PASADENA, CA
Childbearing is a beautiful gift that often takes a significant toll on the body. Women can struggle with the remnants of pregnancy, such as loose abdominal skin and sagging breasts. Dr. Nima, our board-certified plastic surgeon, offers the mommy makeover to restore your pre-baby breasts and body with a series of cosmetic procedures performed simultaneously.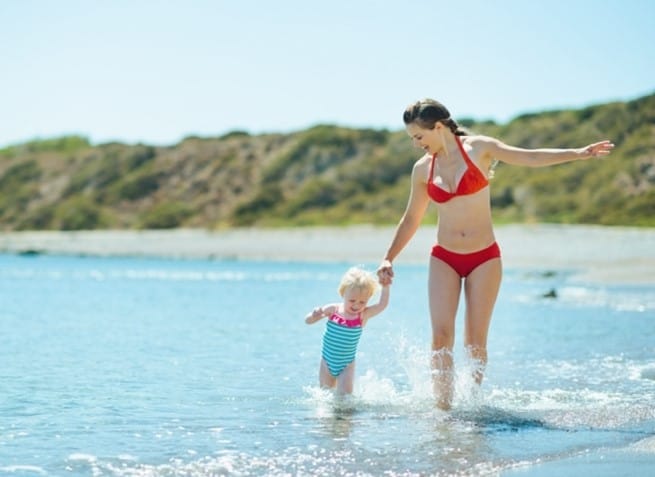 What Procedures are in a Mommy Makeover?
The typical mommy makeover includes a tummy tuck, liposuction and breast surgery of your choosing. Dr. Nima provides several options for women interested in this combination procedure.
What is a Tummy Tuck?
Abdominoplasty is the cornerstone of the mommy makeover procedure. This plastic surgery removes loose, sagging skin from the abdomen and tightens the abdominal wall. Tummy tuck is the most effective way to strengthen outstretched abdominal muscles and fix Diastasis Recti.
What is Diastasis Recti?
Diastasis Recti is a common concern for women after pregnancy because the baby "bump" can cause the rectus abdominis (six-pack muscles) to stretch and separate, leaving a visible gap between these muscles.
Diastasis recti is linked to low back pain and urinary incontinence, but fortunately, tummy tuck offers a surgical solution to this issue. Abdominoplasty narrows the waist and can get rid of stretch marks in the lower abdomen.
Dr. Nima also offers the mini tummy tuck procedure, short tummy tuck and full abdominoplasty.
What is a Breast Lift?
Ptosis (drooping) of the breasts is common with age, but pregnancy, breastfeeding, weight changes and genetics can cause more significant breast ptosis. Breast mastopexy, or breast lift, can deliver a perkier bust with cleavage by removing loose tissue and elevating the breasts and nipples.
Breast lift can be combined with breast augmentation with breast implants or fat transfer. Dr. Nima will discuss your breast lift options, including donut breast lift, lollipop breast lift and anchor breast lift.
What is Implant Breast Augmentation?
Restore lost volume by adding fullness with the latest generation of silicone breast implants. Dr. Nima offers breast implants in various shapes and sizes to customize your breast augmentation procedure and ensure your new bust is proportionate to your frame with natural-looking breasts.
He will discuss your implant options and may offer implant sizers so you can try on your desired breast size to make certain you choose the size and shape that is right for you.
What is Natural Breast Augmentation?
Natural breast enhancement uses fat cells from another body area to restore or add volume to your breasts. Fat grafting, or fat transfer, is combined with liposuction in the mommy makeover, and the harvested fat is processed through a centrifuge and reintroduced into the breasts.
The transferred fat cells offer permanent, soft and natural results and mitigate many of the risks associated with breast augmentation with implants, such as capsular contracture and implant rupture.
What is Liposuction?
Liposuction removes stubborn pockets of fat for good for a sculpted, leaner or more athletic figure. The fat removed during lipo can be repurposed for natural breast augmentation or a Brazilian butt lift for buttock enhancement.
Liposuction is often used during the tummy tuck portion of a mommy makeover but can be performed in several areas to eliminate unwanted fat deposits in the upper arms, thighs, "love handles" and more.
What is Renuvion?
Renuvion J Plasma is used to tighten the skin in the abdomen, arms, thighs and other areas without incisions or scarring. The state-of-the-art technology is often combined with liposuction and offers dramatic skin tightening benefits.
Renuvion combines pro helium gas and radiofrequency wavelengths to emit plasma energy and heat the skin's tissues, promoting healing and causing the skin to contract and tighten.
Why Choose Dr. Nima for Your Mommy Makeover?
Dr. Nima Naghshineh founded Dr. Nima Plastic Surgery with two main objectives: high-quality results from procedures and complete satisfaction for each patient.
He emphasizes safety and efficacy to ensure you achieve your cosmetic goals and have a pleasant experience before, during and after your plastic surgery or non-surgical treatment.
Contact Dr. Nima Plastic Surgery About Mommy Makeover
If you struggle with your postpartum body and are finished growing your family, a mommy makeover can restore your self-confidence. Schedule your consultation with Dr. Nima in Pasadena today by filling out our online contact form or calling (626) 696-8181.
The Nima Difference
Combining Artistry & Advanced Technique to achieve optimal, long-lasting results.
The Process
+ Submit an inquiry
Know exactly what you want? Or not sure? No matter!
Reach out to us by submitting an inquiry HERE.
+ Schedule a consultation
Our dedicated patient liaison will reach out to you and help you arrange a consultation with Dr. Nima.
+ In-person or virtual consultation
At this visit you and Dr. Nima will explore your areas of concern and develop a personalized treatment plan.
Many nonsurgical and in-office procedures can also be done at this visit if it is arranged ahead time with your patient care coordinator.
+ Meet your Patient Care Coordinator
You will be assigned your very own patient care coordinator who will help you navigate through your visits and treatments.
+ Arrange for local accommodations and aftercare
If you are from out of town, we can help you arrange local accommodations near our Beverly Hills or Pasadena locations.
We can also help with post procedure care through partnership with high-end nursing provided at one of several luxury hotels OR provide you personalized nursing care at nearly any location in the LA area.
+ Complete a pre-op visit
If you are having a treatment or procedure with us you may need to have one more visit before your planned procedure.
This pre-op visit gives you and Dr Nima more time to discuss details of your procedure and answer any questions you may have. This also the visit when you will receive your post procedure prescriptions, garments, and care package.
+ Surgery day
The big day is here! So exciting!
You will arrive at the state-of-the-art accredited outpatient surgery center 1hr ahead of your scheduled procedure. You will meet your entire care team in advance (from the anesthesia team to your recovery nurse)!
Rest assured you are cared for by the best in the business.
+ Aftercare/Check-In Call/Follow-up visits
If you have planned to use of the luxury aftercare facilities, transportation will be arranged to take you from the outpatient surgery center to your hotel or facility. If you have arranged for a nurse visit your first visit will typically happen the evening of your procedure or the morning after.
‍
Check-In Call:
Within 24hrs after your procedure you will receive a call from your personal patient care coordinator making sure everything is in order.
‍
Follow up visits:
Your first post-procedure follow-up appointment with Dr Nima will be within 1 week after your surgery. If arranged in advance, Dr Nima may visit you in your care facility.
+ Recovery
Recovery from your procedures can range from 1 day to 6 weeks depending on what you had done.
Dr Nima and his team will see you regularly during this period and make sure your recovery goes as smoothly and comfortably as possible!
‍
If you have traveled from outside of LA, Dr Nima will discuss with you how soon you can travel back.
+ Enjoy the new you
Show off the new you!
It's OK!
You deserve it!
To learn more about what you can expect from your procedure, or to schedule your consultation with Dr. Nima Naghshineh, please fill out the form on this page or call +1 626 696 8181.
We're located in Pasadena, serving Beverly Hills, Santa Monica, Hollywood, Brentwood, Westwood, Burbank, Glendale, and Arcadia.